2018-2019 Year in Review Highlights
Listen to the State of the Church Address
State of the Church Address
Pastor David Hopkins with Kirby Jefferson
I think we can all agree it's been quite a year for us here at Hoffmantown.  We've been through a lot, as a body, but a theme you'll hopefully see is that the Lord has been our Savior and Sustainer through it all.  This is His church and He has and will preserve and protect us.  You may recall that this time last year in September of 2018, things looked a lot different.  We were still at the very beginning of a new journey and chapter in Hoffmantown's ongoing story.  Since that time, we've come a long way.  Some of the highlights from the past year are:
Early on, a team of brothers and sisters in Christ who represented different view points and experiences here at Hoffmantown were brought together in order to help preserve unity for our body and to help discern how God was leading us to move forward as a church.  We called them the Transition Team.  This group was chaired by Kirby Jefferson in close collaboration with the Elders, chaired by Kim Crissman.
Off of that team, we had several sub-teams that were formed.  These included:
The PVM Sub-Team, which helped facilitate a church wide survey process that led to us adopting new purpose, vision, and mission statements for our church.
The Communications Sub-Team, which worked to continually keep the congregation informed as to our progress and how they could be praying.
The Ministerial Sub-Team, who was tasked with filling the pulpit on an ongoing basis, securing an official interim, and prayerfully discerning the Biblical and practical expectations of our next Lead Pastor in order to submit to the Pastor Search Team.
The Governance Sub-Team, which labored intensively to re-write our by-laws in a way that not only aligned with Scripture but also reflected our unique context.  One of the biggest changes that came about, as a result of their work, was a shift in how our leadership would be structured.  While the new by-laws still affirm the Biblical office of Elders and Pastors, the new by-laws also make clear that the Ministry Team (led by the Lead Pastor) has their unique set of leadership responsibilities. The operations aspect of the facility fall under the leadership of the Operations Director, and the Church Council's role is to help cultivate and coordinate a plurality of leadership within our church.  To give further clarity: one could still say we are Christ led, Pastor guided, Elder guarded, and Body engaged but now there will be even more intentionality to bringing these groups together, rather than dividing them, in seeking the Lord's direction and will. In July of this year, we voted, as a body, to approve the new by-laws and complete this monumental transition.
Consequently, all of these teams have now completed their work.  Praise the Lord.
After the new by-laws were approved, what was the Transition Team became the interim Church Council, which has continued to meet regularly since then.  On September 29, 2019, the baton was passed to 6 new lay leaders who, along with representatives from the pastors, elders, deacons, and operations, will constitute the official Church Council going forward.
Pastor Steve Dighton became our official interim in May of this year and has brought a wealth of experience and leadership, both in the pulpit and behind the scenes in meetings.  God has also blessed us with several excellent preachers to help fill the pulpit, both before Pastor Steve came and on the Sundays he hasn't been here.
We've also been blessed with an amazing staff who have served faithfully and sacrificially, despite working under some extraordinary circumstances.  Even though we've been under-staffed in a number of areas for an extended amount of time – our pastors, directors, admins, and coordinators have all pulled together to pick up the slack and have worked very hard to keep Hoffmantown and our ministries running smoothly.
Our K-groups have continued to thrive in leadership, teaching, fellowship, and ministry to their members.
As the year has progressed, we've seen more signs of unity and healing within our body, along with a renewed hope and focus on what the Lord holds for the future of Hoffmantown.
The Lord has been our Savior and Sustainer through it all.
The Pastor Search Team was also affirmed in July and have been actively looking for the next man to be our lead pastor.
People are engaging more as we've seen an increase in our volunteer base.
A new committee was formed to evaluate and recommend what to do with the proceeds from the land sale.
Our finances, as a church, continue to hold steady.  Spending has stayed on track with giving for the fiscal year.
Despite the circumstances of the last year, we were able to, by God's grace, to address some crucial facility needs, including purchasing a brand new, state of the art Chiller, along with making some necessary roof repairs.
The Children's and Student Ministries have remained healthy and stable this last year.  We've seen increases in numbers, from Babies to Children's Choir to AWANAS to Kids Express.  Whatever Family Pastor God brings us will have a very healthy and stable foundation from which to lead and grow.
The number of our baptisms this year have surpassed those of last year and we're not even done with the year yet.
Last but not least, when a church body goes through something like we did a little over a year ago, it's all too common for a split to occur.  It's a testament to God's grace and the love this body has for each other that not only did we manage to avert a split, but our numbers have remained steady.  While we were sad to see some of our brothers and sisters who felt led to leave go, we're grateful for and excited about the new believers and families the Lord has brought into our body. The graph above designates the average monthly attendance from August of 2018 to August of 2019.  It's all too common for a church body to see a significant decline in attendance after a polarizing event takes place.  Yet you can see here that our average attendance has held steady for the last year.  Again, God has been our Savior and Sustainer, preserving us and bringing stability.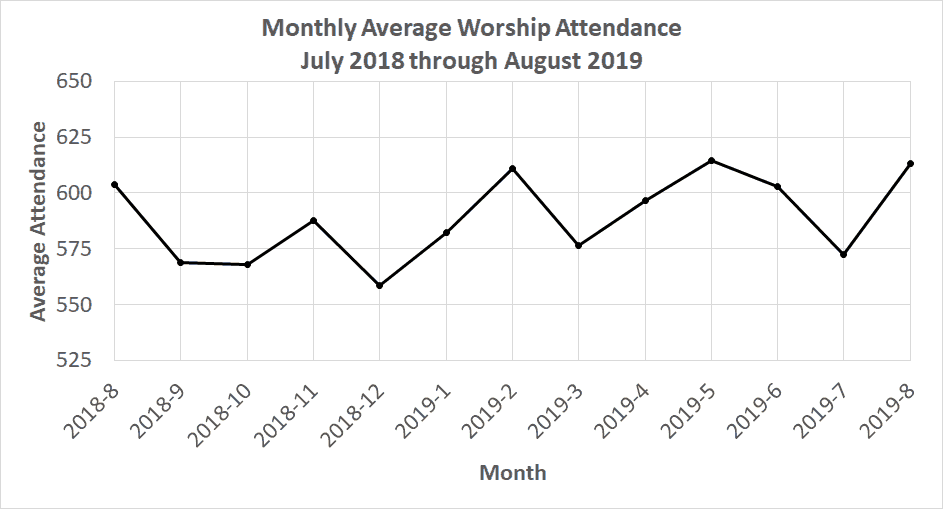 In closing, God is not only our Savior and Sustainer.  He is our Future Hope.  Earlier this month, we were all reminded, as we are every year, of the tragic events that took place on September 11, 2001 when our nation was attacked by terrorists.  The World Trade Center towers became the focal point of the attacks, as they represented the best America had to offer.  The towers were symbols of our freedom, industry, financial prosperity, and democracy as a nation.  When they collapsed to the ground, along with the precious souls inside them, it seemed as if the very heart of our nation came down with them and was broken.
Early last summer, we underwent our own spiritual attack from the enemy.  The devil tried everything he could to bring us down but he failed.  And just like the firefighters, first responders, policemen, and military did when they joined together to save lives – you, the people of Hoffmantown worked together to help mend wounds and be an agent of healing.  Just like the Republicans and Democrats did when they joined hands and sang "God Bless America" on the steps of the Capitol building, you too, put your differences aside and worked together to find a path forward.  And just like the construction workers who came to ground zero, many of you have given countless hours and energy to rebuilding what was broken.   A few days after the attacks, Billy Graham, in a service at the Washington National Cathedral, spoke words of comfort that I think are timely for our church.
"When damaged, those building plummeted to the ground, imploding in upon themselves.  Yet, underneath the debris, is a foundation that was not destroyed. Yes, our nation has been attacked, buildings destroyed, lives lost. But now we have a choice: whether to implode and disintegrate emotionally and spiritually as a people and a nation; or to choose to become stronger through all of this struggle, to rebuild on a solid foundation.
And I believe that we are starting to rebuild on that foundation. That foundation is our trust in God. And in that faith, we have the strength to endure something as difficult and as horrendous as what we have experienced this week. This has been a terrible week with many tears.
But it also has been a week of great faith. In that hymn, "How Firm a Foundation," the words say, "Fear not, I am with thee; O be not dismayed, For I am thy God, and will give thee aid; I'll strengthen thee, help thee, and cause thee to stand, Upheld by my righteous, omnipotent hand."
Church Family, I want you to know how grateful I am of you and how proud I am to serve the Lord and this church alongside you.  You have endured a very difficult season, but God has been our Savior & Sustainer and now He promises us a future and a hope.
For I know the plans that I have for you,' declares the Lord, 'plans for welfare and not for calamity to give you a future and a hope. Then you will call upon Me and come and pray to Me, and I will listen to you. You will seek Me and find Me when you search for Me with all your heart. I will be found by you,' declares the Lord, 'and I will restore your fortunes and will gather you from all the nations and from all the places where I have driven you,' declares the Lord, 'and I will bring you back to the place from where I sent you into exile.' Jeremiah 29:11-14
It's because of this promise, I can say with confidence, truly, the best is yet to come.