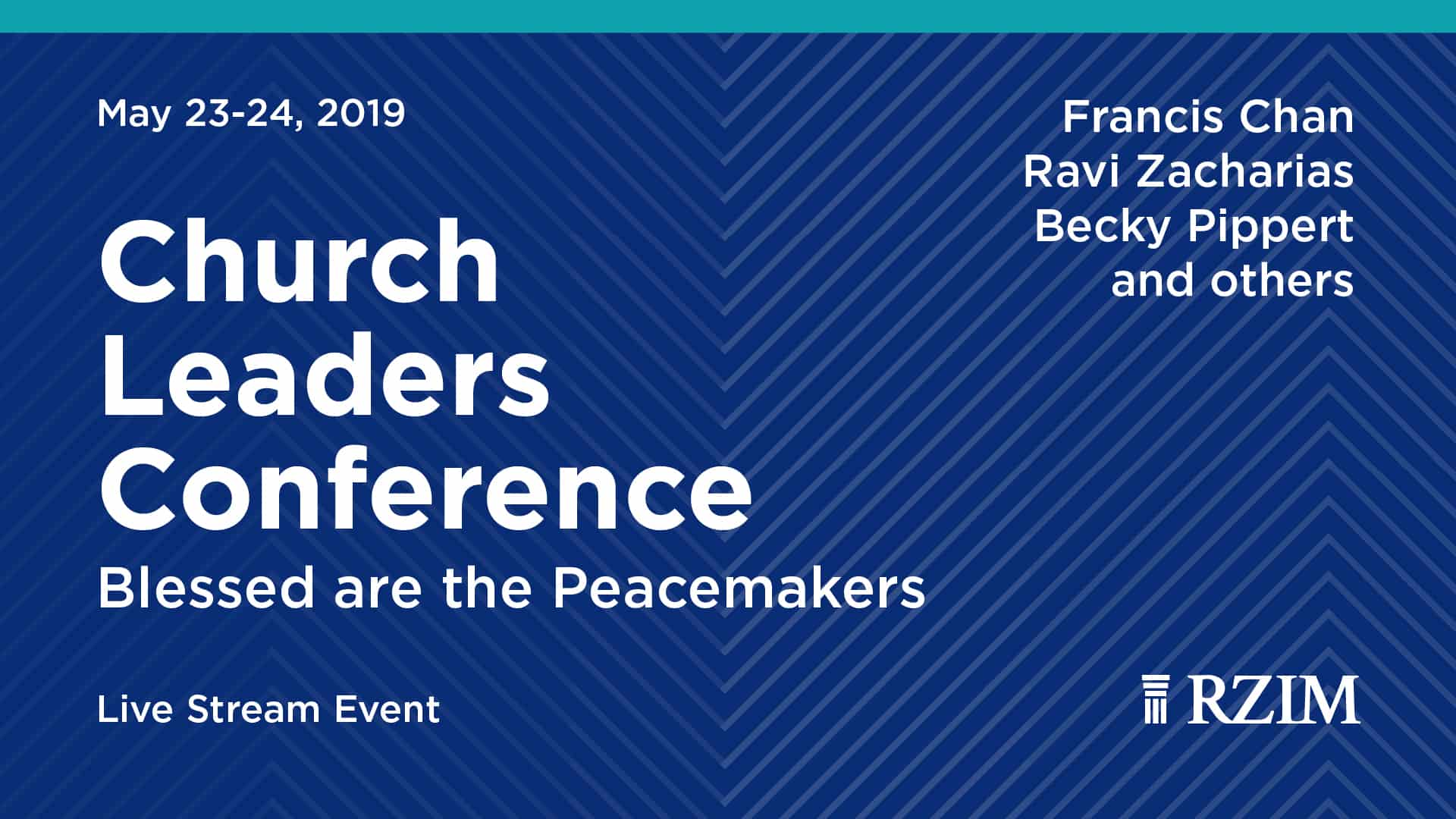 Date and Time

05/23/2019 7:00am - 3:30pm
05/24/2019 7:00am - 3:30pm

Location

Hoffmantown Church (the R.O.C.)

Tickets / Registration

Free Event, but please RSVP to Tabitha
Church Leaders Conference by RZIM (Ravi Zacharias International Ministries)
More information can be found at https://www.rzim.org/events/church-leaders-conference/about-clc
"[God] reconciled us to himself through Christ and gave us the ministry of reconciliation" (2 Corinthians 5:18).
Tribalism. More and more, this description characterizes the trajectory of our society, as we are descending into an increasingly savage pack-mentality. Forget about civility: It's the law of the jungle out there and, if you're not with me, you're against me. How ironic that, in a society that has worked so hard to resist drawing an absolute line between right and wrong, we are now so eager to label a right and a wrong side of history, and a right and a wrong people.
When our newsfeeds are drowning in warfare rhetoric, how is God calling his people to engage? Will we batten down the hatches and sure up our defenses? Will we charge full-tilt into battle under the war cry, "take no prisoners?"
What does it look like for the church to be reconciled to God, to forgive one another as the Lord forgave, and to live out our message of reconciliation in a deeply-divided culture?
Helping us answer these critical questions will be Francis Chan, Ravi Zacharias, Becky Pippert, John Bechtel, Michael Ramsden, Lisa Fields, Abdu Murray, Judy Dabler, Vince Vitale, and other members of the RZIM team.
This is a FREE Live Stream Event hosted at Hoffmantown Church. Please contact the Equipping Ministry at 858-8624 for more information or to RSVP.
---
Schedule of Events
Thursday
7:00-7:15AM | Doors Open
7:15am-7:20 |Welcome & Prayer Gregory elder
7:20-7:50AM | THIS PEACEMAKER REACHED HIS ENTIRE WORLD JOHN BECHTEL
7:50-8:35AM | RECONCILIATION IN A DIVIDED CULTURE MICHAEL RAMSDEN
8:35-8:55AM | COFFEE BREAK
8:55- 9:40AM | EQUIPPING THE CHURCH IN HOLISTIC WITNESS FOR SUCH A TIME AS THIS: PART ONE BECKY PIPPERT
9:40-10:25AM | THE MINISTRY AS A "BURDEN AND A PRIVILAGE" RAVI ZACCHARIAS
10:25-12:10PM | BrUNCH (NO HOST- SEE LOCAL RESTAURANT LIST ON BACK)
12:10-12:55PM | THE UNCOMPROMISING GOSPEL AN INTERVIEW WITH JUSTICE OKORONKWO & HASSAN JOHN
12:55-1:40PM | Q & A WITH RAVI ZACCHARIAS AND FRANCIS CHAN
1:40-2:10PM | Meet & Greet Fellowship
2:10-2:55PM | PEACE IN THE CHURCH FRANCIS CHAN
2:55-3:00 | WORSHIP AND PRAYER
FRIDAY
6:30-6:45AM | Doors open
6:45-6:50am |welcome & prayer GREGORY ELDER
6:50-7:20AM | THIS DECEIVER WRESTLED WITH GOD JO VITALE
7:20-8:05AM | THE MISSING PIECE OF THE PEACE WE'RE MISSING: THE CULTURAL GAPS ABDU MURRAY
8:05-8:25AM | COFFEE BREAK
8:25- 9:10AM | RECONCILIATION: THE GREAT APOLOGETIC LISA FIELDS
9:10-9:55AM | LIVE AT PEACE JUDY DABLER
9:55-11:40aM | Brunch (NO HOST- SEE LOCAL RESTAURANT LIST ON BACK)
11:40-12:25PM | equipping the church in holistic witness for such a time as this: part two BECKY PIPPERT
12:25-1:15PM | seminar a- agents of peace in hostile environments JUSTICE OKORONKWO and HASSAN JOHN
1:15-1:35PM | break
1:35-2:10PM | Q&A with Becky pippert, Abdu Murray, Michael Ramsden, Lisa fields
2:10-2:55pm | from culture to Christ Vince Vitale
2:55-3:00pm |Worship and prayer