Results of Vote Count for Lead Pastor
Members of Hoffmantown, it is our pleasure as your search team to let you know that Pastor Lamar Morin has accepted the call to be the Lead Pastor of Hoffmantown. We welcome Lamar and Lynn to our family.
470 votes were submitted, with 463 in favor of calling Pastor Morin as Lead Pastor. That is a 98.5% favorable response.
God is faithful and good. Above Him there is no other. We are honored to have been able to serve Him and you in calling Lamar and Lynn to our body.
In View of a Call Message 9/13/20
Get to know Lamar and Lynn!
Question and Answer with Lamar (9/9/20)
Interview with Lamar and Lynn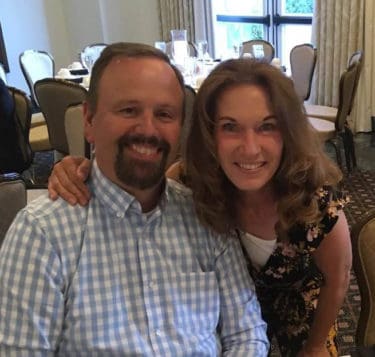 Our candidate for the position of Lead Pastor at Hoffmantown is Lamar Morin. He is married to Lynn Morin. Lamar has lived most of his life in New Mexico. Lynn is a New Mexico native, born and raised in Roswell. They met in college and began in the ministry together shortly after they were married.
They have 4 sons, and 6 grandchildren. Their oldest son is in the medical field; the other three sons are in ministry, serving here in New Mexico and abroad. Lamar and Lynn make their home in northwest Albuquerque.
Lynn is a registered nurse working at Lovelace Women's care for moms and babies. She supports Lamar in his ministry, and Lamar and she both attest that they work best as a team in ministry.
Lamar currently heads up the Leadership Development Team for the Baptist Convention of New Mexico (BCNM), supervising the staff there when Executive Director Dr. Bunce is on travel. Lamar supervises children's/preschool work, youth/student work, church worship, Bible study classes/groups, and our two BCNM camps. He works with SBC church leadership and staffs all over New Mexico, and supports the theological training provided through Gateway Seminary. You will often find Lamar traveling on the weekends somewhere in New Mexico preaching at one of our SBC churches and/or leading worship, as part of his service to BCNM churches. He most recently supported SBC churches in Clovis and Carlsbad.
One of his greatest loves is children and youth, and he places a high priority on Sunday School, teaching, and disciple-making (which in his words begins with the lost). Even as the Pastoral Search Team began working with him, he would often come to our campus and "prayer-drive" around our facility, spending time contemplating how we as a church may reach those who use our parking lot to begin their morning exercise routines, or use our mission field to play.
Prior to moving to Albuquerque to take the leadership position at BCNM, Lamar and Lynn served faithfully at First Baptist in Bloomfield, NM. For the first 13 years, he served as Dr. Bunce's Executive Pastor and pastor over the worship and education ministries. When Dr. Bunce left Bloomfield to come to BCNM, the congregation selected Lamar as their senior pastor. He served in that position for an additional 6 years before himself coming to BCNM.
Besides his call to preach the gospel, God has gifted both him and Lynn as skilled musicians. Lynn is a talented pianist and has served with the worship ministry at FBC Bloomfield. In his early ministry, Lamar toured and sang with the Continental Singers for two summers. He is a member of the New Mexico Singing Churchmen.
In summary, Lamar and Lynn come to us in view of a call to Lead Pastor of Hoffmantown as:
New Mexicans (specifically Albuquerque residents),
having served in ministry positions involving children and youth work,
having served as a worship pastor,
having served as an executive pastor,
having served as a senior pastor,
having served in Convention leadership, and
having continued to serve where needed to fill pulpits and worship leadership amongst our BCNM churches.