Onsite Service Reopen Plan
We are looking forward to seeing you again this Sunday at 9:30am as you feel comfortable attending! There are some things we would like you to keep in mind for the safety of the congregation. First, masks are mandatory by everyone attending on-site, per the governor's orders. We also ask that you continue practicing social distancing habits by maintaining 6 feet distance between family groups; as you take your seats in the worship center, please keep three (3) empty seats in between family groups. We will be doing our part to keep our building sanitized; please do your part by washing your hands often for at least 20 seconds.
We understand that many of you may not feel comfortable or may have concerns about returning, and we want you to know that there is absolutely no pressure for you to attend on-site until you feel ready. We would encourage you to continue to be discerning if you are in a higher-risk category. If you currently have any symptoms or have been around anyone with coronavirus recently, we ask that you please stay home and watch online until you are free from symptoms or exposure to COVID-19.
We will continue to stream our service live on Hoffmantown.Online, Facebook, and YouTube and we'd love for you to join us on any of those platforms. For those that decide to join us in person, we look forward to seeing you again!
All other Sunday and mid-week activities are still suspended or are meeting online until further notice.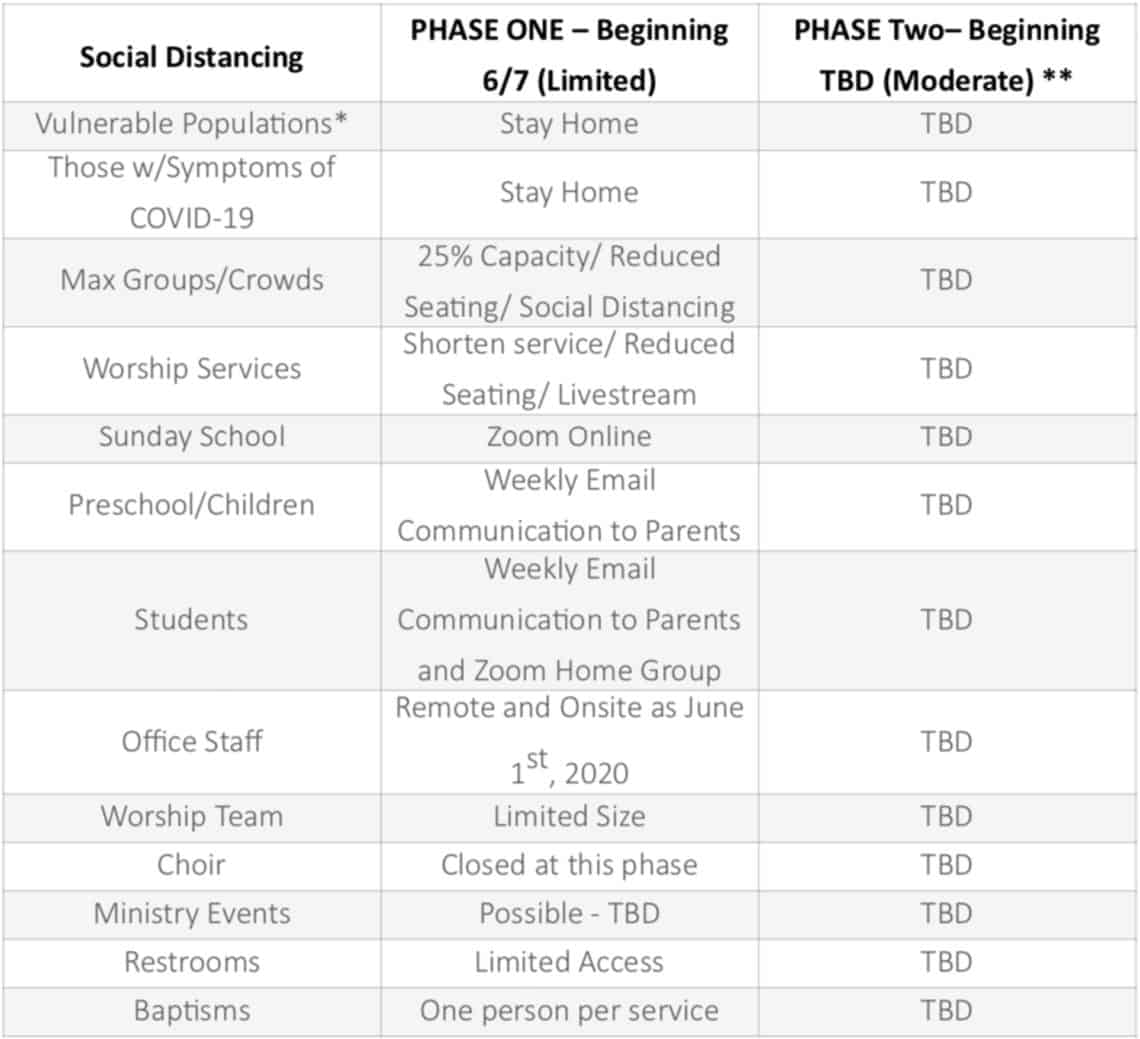 ** As we enter Phase II from our government, we will update Phase II of this plan. 
Kid's Ministry
When you enter the building, your child will be provided with a "Praise Pack." These are sanitized Ziploc bags with activities to help your child participate in the service. None of the contents will be returned to us. Your child will take home the whole bag and receive a new one each week. 
For Preschoolers, we will provide a Bible lesson worksheet, a coloring page, crayons, a quiet activity, and a nut-free snack. 
For Kinder-3rd graders, we will provide a Bible lesson worksheet, a coloring page, a Sermon notes page, a pencil, crayons, a quiet activity, and a nut-free snack. 
For 4th-6th graders, we will provide a sermon notes workbook, a Bible lesson worksheet, and a nut-free snack. The Sermon Notebooks are spiral bound worksheets. We will be continuing to work with these throughout the 2020-2021 Program Year. Please bring your child their notebook to service weekly. They will be provided with a snack and worksheet each subsequent week. When your child finishes their book, they can show it to children greeters for a prize. This prize is not more "junk" in your house, rather it will be something that can be experienced (for example an ice cream cone voucher). If your kinder-3rd grader normally attends Big Church instead of Kids ROC, they can get a sermon notes notebook and participate in this program instead if you so choose. 
We recommend that you bring your child a book or clipboard to write on as we are unable to provide a hard surface for them. Also please have each child bring their Bible as well. 
Frequently Asked Questions
How will we make sure people are not sitting too close to one another? 
We will utilize the CDC recommendation of 6' per person separation guideline. Family units, defined as people residing in the same home, can sit together. Our Ushers will ensure that there are three seats between each family unit. 
What if more people show up than we can accommodate in the sanctuary? 
We've anticipated using the B100 as an overflow. We will be able to have a Livestream experience there. Because we use chairs in that space, we can implement the 6' per person or family unit. 
Where do I enter? 
We will limit access into the building to the front glass doors for the sanctuary and the east entrance Building – B. Also, all external and internal doors will be propped opened by a Greeter or Deacon, to ensure a "touchless" entry. 
Should I wear a mask? 
Yes, The governor's guideline states that masks are mandated. Information from CDC on cloth face coverings indicates wearing a mask reduces the potential for transmission of the COVID-19. We will have a limited number of masks available for those who do not have one. We recommend people bring masks with them when they enter the building. 
Will the bathrooms be open? 
Yes, the bathroom surrounding the auditorium, will be open but will be limited to four persons at a time, particularly in Phase One. We will clean handles and surfaces throughout the morning. Our signage will remind folks to wash their hands. Please know that all water fountains will be turned off for health and safety reasons. 
How will the offering be received? 
Offering plates will not be passed between congregants. Offering boxes will be at the exit doors at the end of the service to receive the offering. Also, you can mail to address of 8888 Harper Drive, Albuquerque, New Mexico, 87111 or use e-giving to give your offering at hoffmantownchurch.org/give
What about Communion? 
Communion trays will not be passed between congregants during Phase One. When we have communion, we will provide prepackaged elements available for you to pick up as you enter the sanctuary. 
Will there be a Children's /Student Ministry available? 
There will not be Children's / Student Ministry available during Phase One. It is not possible to ask our preschoolers to social distance! As such, we have determined that our "safest" approach is to follow the lead of our Public School System. So, we anticipate some type of return to Children's / Student Ministry in a future phase, although it will be limited in scope. 
Will there be a Nursing area for Moms? 
Yes, there is a room designated for nursing moms, that Livestream of the service. The room capacity is two people at one time. This room will be sanitized before and after. 
Where should I park? 
There are no restrictions on where people can park. However since we are asking all our members and guests to enter through the one entrance in building- B, it will be easier for you. We will have our cart ministry to assist you to the entry point. Our lot is large and spacious, however, please be mindful of social distancing while exiting cars to enter the building. 
What happens after the service? 
We know that you may want to stay and visit, however, you are requested to maintain social distancing while moving to your cars using any exit from the sanctuary. All the doors in the back of the sanctuary will be propped open for easy/no-touch exiting. 
Building Sanitization In addition to our paid cleaning staff, we are adding more people to clean before, between, and after all services. We will wipe down all armrests, tables, chairs, doorknobs/handles/crash bars, all equipment, etc. All water fountains will be shut for safety reasons. We will have a hand sanitizer station upon entrance into building-B
Who do I contact if I have questions I need to be answered before returning to church? 
You are encouraged to call the office with any additional questions at 505-828-2600.