The Transition team has been established as a temporary body for the purposes of discovering issues within the church and providing recommendations to the Council of Elders.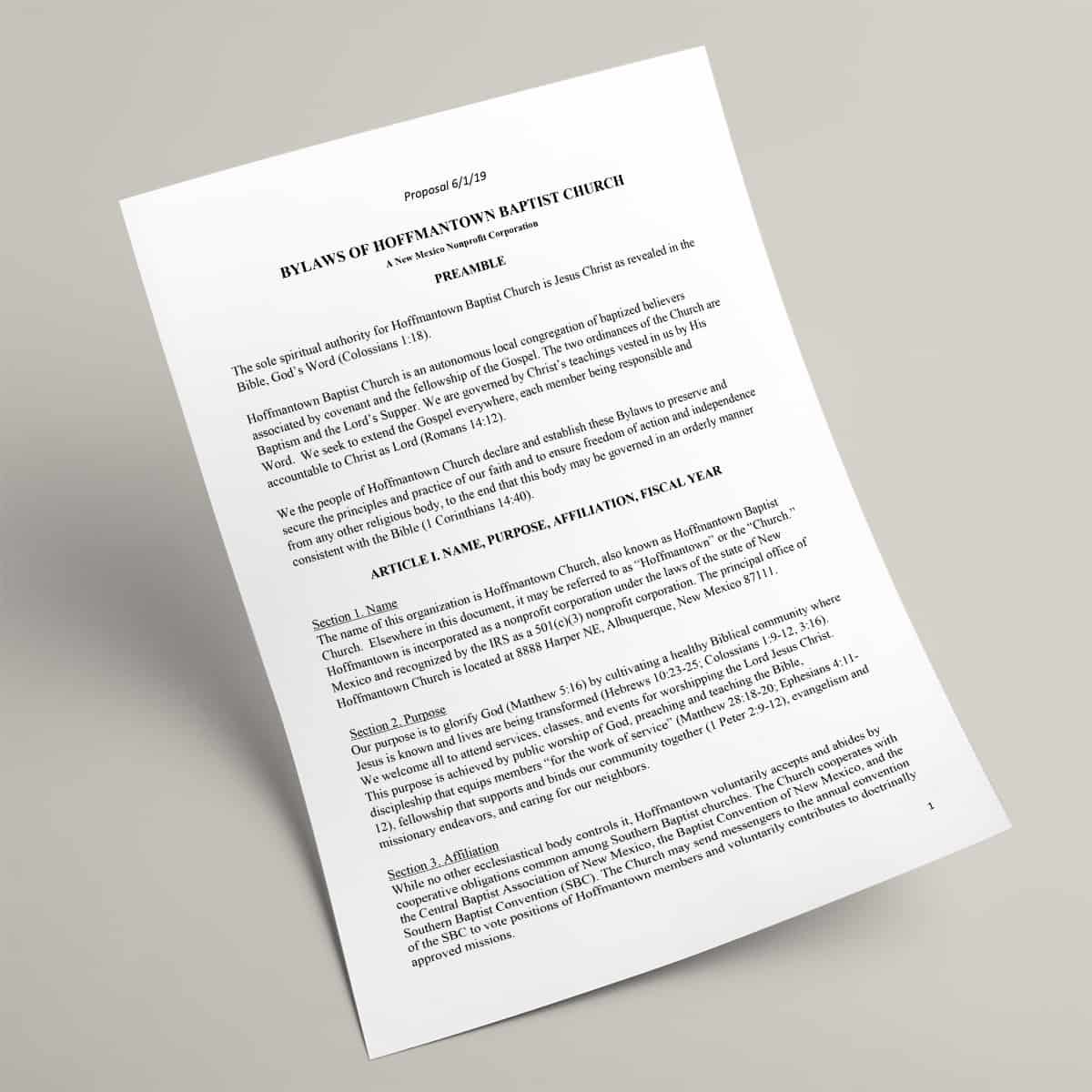 This is the final version that we will be voting on as a congregation at the June 30th Congregational meeting. The Tteam (including the pastors and elders) are in full support of these bylaws and encourage a yes vote on June 30th. Please remember that you must be a member and you must be present to vote. If you have any question with regards to your membership status, please contact the church at 505-828-2600.
The Tteam is excited about what is happening at Hoffmantown Church as we have seen God's hand in the work in the past 11 months. We are excited to see how God will continue to use Hoffmantown Church in the future to impact our community.
CHURCH-WIDE ANNOUNCEMENTS This Week's Worship Service This Sunday Steve Dighton will be preaching on The Man of God (Psalms 1:1-3). Today's songs will be Leaning On The Everlasting Arms, By Faith, How Deep The Father's Love For Us, and Amazing Grace (My Chains Are Gone). Transition Team Update The Transition Team, Ministerial Sub-Team, Pastors and…
Kirby Jefferson (Chair), Deborah A., Wayne Byrd, Kim Crissman, Nate Hebst, Bradley Jared, Doug Lawson, Wilbur Martin, Bill McCullough, Jim Smith, Fran Stribling, Susie Taylor, Ben Wyne.
*The Pastors have been attending all meetings.
Purpose
The Tteam has been established as a temporary body for the purposes of discovering issues within the church and providing recommendations to the Council of Elders.
Responsibility
The Tteam will receive inputs from the congregation and provide responses to the individuals; confirming receipt of the inputs and providing responses as information is available at that time. The Tteam will bring issues and recommendations received from the body forward for discussion, actions, and follow-up. All Tteam members have the responsibility to raise concerns regarding church spiritual and organizational issues as well as Tteam responses, and behaviors.
The Tteam will walk alongside those committees already established; deacons, maintenance and renovation, women's ministry, children and youth ministry, etc. to listen and support their ministry.
The Tteam will determine areas within Hoffmantown where concerns over its health need further assessment and form sub-teams to address areas that need significant study and work.
Accountability
The Tteam is under the authority of the Elder Council according to the oversight guidance provided in scripture and in the Bylaws of Hoffmantown.
Authority
The Tteam is delegated the authority to perform tasks as identified in the responsibility section of this document. Final decision authority resides with Elder Council. The Tteam has the authority to form and delegate specific tasks to sub-teams. The sub-teams operate under the authority of the Tteam as delegated by the elders.
Purpose Vision Mission:
Define the Vision, Mission, Purpose, Strategy, of Hoffmantown church and how these drive the Structure. Identify what should be and what could be according to the scriptures. Develop a vision casting and a remembrance approach for all body ownership and engagement. Make them plain so that all who read may run (Hab 2:2).
The product of this team significantly drives governance, ministerial and other team directions so the initial vision casting and buy-in is crucial to and by all teams.
Members: This team has completed their work and has disbanded.
---
Governance:
Evaluate and recommend church governance modifications (the elder structure will remain in place). Review the current Bylaws for weaknesses and make recommendations for improvements.
Members: Dan Rupp (Chair), Bill McCulloch, Cynthia Becenti, Dave Houghton, Doug Lawson, Fran Stribling, Gwen Hughes, Kirby Jefferson, Maryann Bassett, Mitchell Jackson, Rick Craft, Steve Byrd, Wil Martin.
---
Ministerial:
With a focus on scriptural foundations and individual discipleship, work with the various ministries including pastors, staff, and currently operating councils, to help strengthen them. By listening to those who work in these areas identify, prioritize, and recommend opportunities for improvement.
Members: David Hopkins (Chair), Bradley Jared, Stacie McDonald, Jeff McElwain, Kristie Stafford, Susan Taylor, Gregory Elder, Tim Hale, John Rupley, Kim Crissman, Gayle Cilvik,
---
Facilities:
Already functioning this team will continue to evaluate the state of the property, obtain estimates of work to be completed, and develop a schedule of recommended dates of work to be accomplished.
Members: Sam Mouck (Chair), Kathy Dodson, Colby Geer, Wayne Hofeldt, Dave Jarvis, Will Martin, Sara McBee, John Rupley, Mike Rymarz, Jim Smith, Laurie Wallis
---
Pastoral search committee:
When the time is right, after the Purpose Vision Mission, Governance, and Ministerial teams have completed their work this team can be launched into full search mode. Formation can begin earlier for exploratory purposes but the outputs of the sub-teams are necessary for any prospective pastor to understand the path set forward for Hoffmantown.