"But you will receive power when the Holy Spirit has come upon you; and you shall be My witnesses both in Jerusalem, and in all Judea and Samaria, and even to the remotest part of the earth." Acts 1:8
Listen to a message given by Dr. Tom Elliff at Hoffmantown Church on Friday, March 31, 2017 "God at Work in US and Around the World"
Missions Training and Resources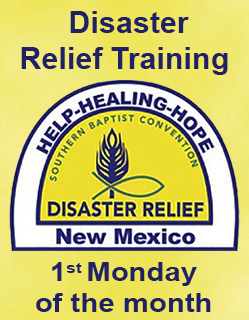 Disaster Relief Training 6-9pm Every 1st Monday of the month in Building E, room E104
Training will be here at Hoffmantown in Building E, room E104. This training will take place every 1st Monday of the month unless noted otherwise. The Disaster Relief training is open to the entire congregation.
Anyone over the age of 18 who goes through the training will have the opportunity to be certified with Southern Baptist Disaster Relief.
For more information, contact the Missions Ministry at missions@hoffmantown.orgor call 858-8662.
Hoffmantown's Ministry Partners
Global Ministry Partners:
Tom and Lynn Jackson: Wycliffe Associates Solomon Islands
Koning: Pioneers, Kazakhstan
Costel and Mia Oglice: Precept Ministries, Eurasia
Justin and Julie Pearson: Pioneers, Portugal
Roger and Kathy Tesch: Wycliffe Associates, Papua New Guinea
Harlan Capps: Faith Baptist Mission, Inc.
Andrew Freckas: YWAM, Russia
Tom Radigan: BEE, Myanmar
Larry Waters: BEE, The Philippines
AMG International: Chattanooga, Italy, Thailand, Uganda
International Cooperating Ministries
International Mission Board
Bread of Life Church, Romania
Faith Comes By Hearing
Grace Christian School, Romania
Local Ministry Partners:
ABQ Rescue Mission
CareNet ABQ
Baptist Student Union at UNM
Central Baptist Association
China Outreach
Trail Life
Joy Junction
The Navigators
Angel Tree Ministries
The Rock at Noon Day
Fathers in the Field
Camp InLow
Southern Baptist Convention
North American Mission Board
Eagles' Wings Youth Ranch
Gideons International
Prison Fellowship
Interested in joining a trip?
Contact the Missions Ministry
Email | Pastor of Missions - John Rupley: johnr@hoffmantown.org
Missions Office | Open Monday through Friday 9:00 am to 5:00 pm.
Call the Missions Office, we will be happy to meet you there!
Phone | 505-858-8660
Visit | "Missions Cove" in the Fellowship Mall…the place to visit, ask questions and learn more about what God is doing around the world…and right here in our city and state.
Sundays – come worship with us! | Our Worship Service is at 9:30am on Sunday. Stop by after service to visit with us or pick up information in the Fellowship Mall.