Monday - Thursday | 9:00am – 1:00pm
Open Registration
Begins March 6, 2023
In-House Registration begins February 27, 2023
All aboard Kids Express! Our school year will be filled with thrilling learning experiences and there are sure to be growing opportunities around each bend!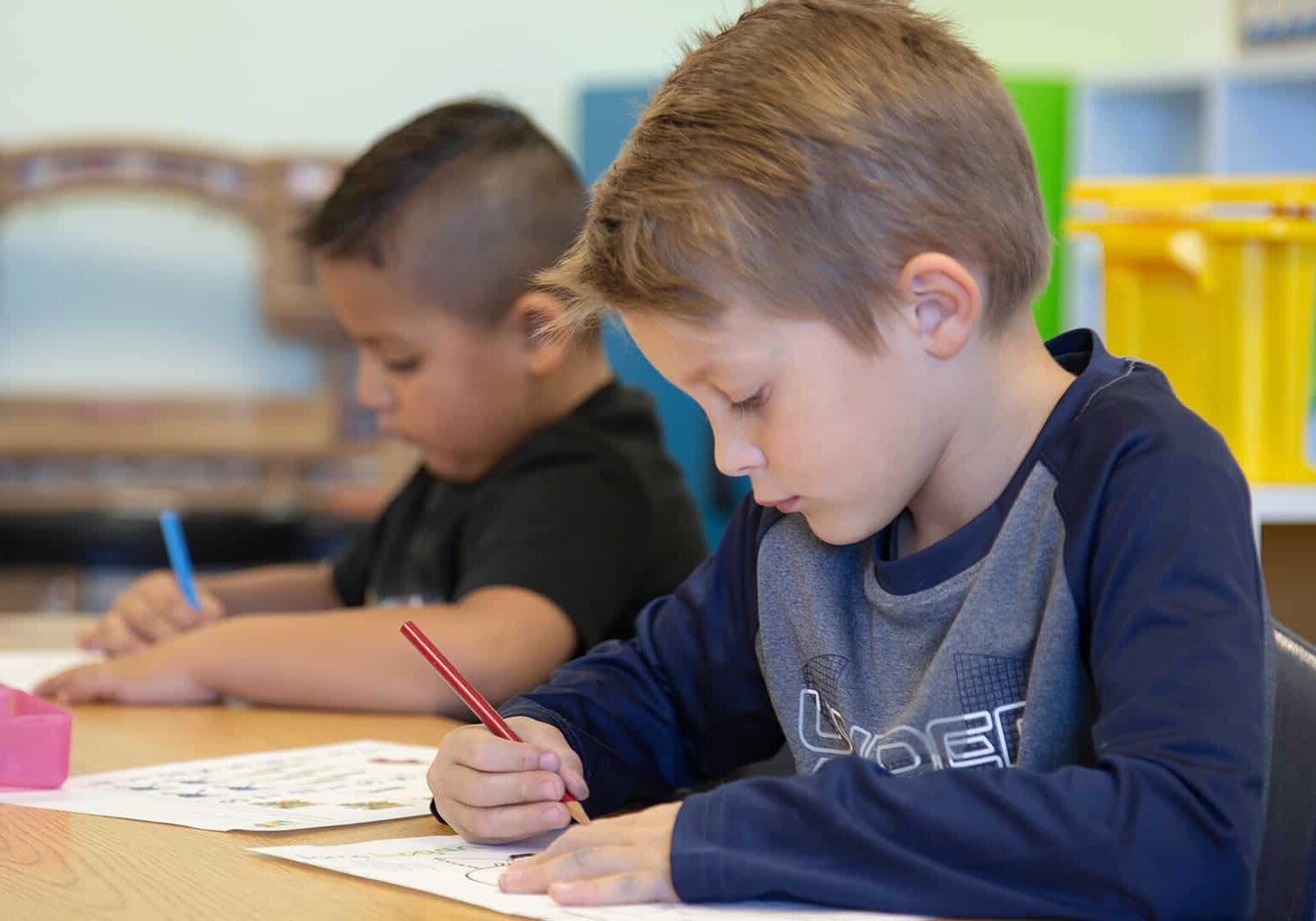 Our Mission
Our mission is to provide quality care in a positive, Christian atmosphere which will promote the spiritual, cognitive, and socio-emotional growth of children through the participation in educationally sound learning activities.
Faith and Education
God loves all of His children and we are committed to providing them with a strong faith foundation as well as a strong education foundation.
What We Do All Day
The school day is filled with stimulating and exciting learning opportunities for each student. Children learn best when they are having fun and here at Kids Express, our kids learn a lot! Each day our teachers employ a curriculum-based lesson plan that teaches the children the tools that they need to enter Kindergarten successfully.
Below, there are a few examples of a daily schedule. As you can see, your child has structured and unstructured time in the classroom. Your child will have an opportunity to sit down, follow instructions, complete a project, and learn how to function in a classroom. Your child will also have an opportunity to learn through exploration, experimentation, and socialization.
Sample Two's or Three's Schedule
9:00 Welcome/Playtime
9:15 Circle Time
9:35 Snack
10:00 Outside Play
10:30 Art Project Time
11:30 Centers
12:00 Lunch
12:45 Show and Tell
1:00 Dismissal
Sample Pre-K Schedule
9:00 Welcome/Playtime
9:15 Circle Time
9:45 Snack
10:00 Phonics
10:25 Handwriting
10:45 Outside Play
11:05 Numbers
11:30 Centers/Project Time
12:00 Lunch
12:30 Activity Time/Show and Tell
1:00 Dismissal
Curriculum Goals: Two and Three Year Olds
We want the children to learn how to:
Socio-Emotional Development
Interact and cooperate with others within a structured learning environment.
Learn through exploration at learning centers.
Develop basic classroom skills such as taking turns, following directions, and expressing one's needs verbally.
Physical Development
Develop fine motor skills through play with crayons, play dough, and other manipulatives.
Develop gross motor skills through outdoor play by climbing, running, and pulling as well as playing with balls, hula hoops, the parachute, and small group games.
Basic Skills
Recognize name in manuscript
Recognize eight basic colors
Identify numbers 1-10
Identify basic shapes
Recognize the letters of the alphabet
God Growth
Know that God made me
Know that God loves me
Know that Jesus wants to be my friend forever
Sing and wiggle for God during Worship Time
Listen to stories from the Bible
Participate in Kids Express events
Curriculum Goals: Pre-K
We want the children to learn:
Speech and Language
Listen to instructions
Speak clearly and in full sentences
Express ideas and stories in sequence
Develop sequencing skills and rhyming skills
Participate in discussions
Literacy
Recognize upper and lower case letters of the alphabet
Identify the sounds of each letter
Begin to blend the sounds of each letter
Copy letters and words onto paper
Recognize and print own name
Listen to and enjoy stories, books and poems
Recognize days of the week and months of the year
Identify matching and opposites
Numbers
Recognize numbers 1-20
Begin learning own address and phone number
Use simple measurement
Relate groups of objects to the number represented
Count to 100
Count by 10's to 100
Science
Describe the weather
Participate in simple science experiments
Recognize animals and plants
Participate in simple cooking activities
Categorize objects
Art
Paint
Cut
Glue
Tape
Draw
Use crayons
Use markers
Use unfamiliar art materials
Participate in various art projects
Recognize colors and shapes
Socio-Emotional
Interact and cooperate with others in a structured learning environment
Participate in group activities
Work individually
Complete tasks
Follow instructions
Respect others
Respect the classroom and the things in it
Develop the ability to recognize other's feelings
Physical
Work and play actively
Skip and hop on one foot
Begin to tie own shoe
Hold scissors and pencils correctly
Practice good hygiene such as washing hands
God Growth
Know that God made me
Know that God loves me
Know that Jesus wants to be my friend forever
Sing and wiggle for God during Worship Time
Listen to stories from the Bible
Participate in Kids Express events
Memorize verses from the Bible
---
Pre-K Curriculum
All Pre-K classrooms implement the Horizons curriculum. The Christian-based, Horizons program provides the students with a comprehensive learning experience that prepares them for Kindergarten.
Summer Express
Summer Express is a fun way to continue learning about God's amazing world throughout the summer! It's also a great way to gear up for school next year! Come join us as we learn and play!
June Session: June 12-29, 2023
July Session: July 10-27, 2023
9:00am-1:00pm
Mondays, Tuesdays, Wednesdays, and Thursdays
Tuition: $260.00
Age Groups
Going into Three's
Going into Pre-K
Going into Kindergarten
Registration
Placement in the program is first-come, first-serve.
Registration packets must be complete or they will not be processed.
Children are placed in the program strictly according to their birth date.
FAQ's about Summer Express
How is Summer Express different from the regular school year?
Summer Express has more of a "summer camp" feel and offers the structure of the school year with the fun of summer time. The children have an opportunity to maintain essential skills throughout the summer while playing more games and having tons of fun!
Can I register my daughter for Summer Express if she is going into Kindergarten next year and has never attended Kids Express before?
Yes! Summer Express will be an awesome chance to gear up for Kindergarten!
Can I register my son for Summer Express if he just turned 2 years old?
Your child must turn 2 years old before September 1st of the previous school year in order to enroll in Summer Express. That means that your child must be old enough to have attended Kids Express already. You can, however, register him for the upcoming school year!
How do I get more information about the program?
Simply go to the "Contact Kids Express" link and then ask your questions! We are happy to help!
*Due to Covid -19 Please make sure all snacks are individually packaged, or in the manufactured packaging from the store.
Fruits
All fresh fruit
Fruit Bowls
Fruit To-Go Cups
Sun-Maid Raisins (not yogurt or chocolate covered)
Motts Fruit Blasters Applesauce Tubes
Ocean Spray Craisins Original Dried Cranberries
Dried fruits
Vegetables
All fresh vegetables
Individual dips
Salty Snacks
Rold Gold Pretzels
Sun Chips – Original
Gardetto's Original Recipe Snack Mix
Popcorn – (unbuttered) Pop Secret, Orville Redenbacher, Healthy Choice
Skinny Pop Popcorn
Harvest Snap lightly salted green pea snacks (lots of flavors)
Chex Mix brand (packaged) – Traditional and Cheddar
Combos Cheddar Cheese Pretzels and Pizzeria Pretzels
Terra Exotic Vegetable Chips – Original, Sweets & Beets, Sweets & Carrots, Sweet Potato
Stacy's Pita Chips – Simply Naked, Cinnamon Sugar, Parmesan Garlic and Herb
Organic crunchy rice rollers
Pirates Booty Products
Popcorners
Kettle Brand Chips
Wise Snacks
Don't Go Nuts Products
Crackers
Honey Maid – Cinnamon Grahams & Sticks,
Honey Grahams & Sticks
Ritz Crackers (plain only, not sandwiches)
Keebler Club Crackers (original only, no sandwiches)
Nabisco Saltines
Sunshine Cheez-Its
Cheez-It Baked Snack Assortment
Keebler Graham Bites Original Crackers
Kraft Handi-Snacks Ritz Crackers, Breadsticks, and Pretzels with Cheese Dip
Austin Cheese Crackers with Cheddar and Pepperjack Cracker Sandwiches
Pepperidge Farm Cheddar Goldfish (only plain,
pretzel or cheddar. Not Cinnamon Grahams.)
Sargento – Mootown Crackers & Cheese Dip
Annie's Organic Bunny Grahams – Honey
Great Value Honey Grahams
Triscuits
Wheat Thins
Keebler Town House Crackers
Keebler Town House Flip Sides Pretzel Crackers
Great Value Buttery Smooth Crackers
Nabisco Chicken in a Biskit Crackers
Nabisco Cheese Nips
Sportz Cheddar Crackers
Kraft Handi-Snacks Cinnamon Graham Crackers
w/applesauce dip
Kraft Handi-Snacks Crackers with Cheese Dip
Gummy Snacks
Annie's Fruit Snacks
Welch's Fruit Snacks
Great Value Fruit Smiles
Clif Kid Organic Twisted Fruit – Strawberry, Mixed Berry (fruit bars only)
Betty Crocker or Nabisco Fruit Snacks - Fruit Roll-Ups, Fruit by the Foot, Gushers, Shark Bites, Fun Fruits, Scooby Doo Fruit Snacks, Trix Fruit Snacks, Hi-C Fruit Snacks, Pokemon Fruit Snacks
Frozen Treats
Minute Maid – Juice Bars, Fruit & Cream Swirls, Frozen Lemonade
Nestle – Itzadoozies, Ice Screamers Flintstones,
Rainbow Sherbet Treats & Juicy Juice Frozen Juice Pops
Tropicana Fruit Juice Bars
Welch's Fruit Juice Popsicles
ICEE Frozen treats
Miscellaneous
Nature Bakery Fig bars
Enjoy Life products
Lofthouse cookies
Cheese sticks
Yogurt (not soy brands) kid yogurt without candy
Gogurt, Danimals,
Kelloggs Nutrigrain Cereal fruit bars
Made Good products (Granola bars, Granola Minis, Crispy squares, Soft baked mini cookies, crispy light granola)
*Important: Due to continual changes in manufacturer packaging and processing, please read the ingredient label for products to ensure that it does not contain any tree nuts, peanuts, peanut butter, peanut oil or manufactured in a facility that also processes peanuts for any peanut allergy.
2023- 2024 School Calendar
Meet the Teacher – August 8th & 9th (9:00am – 12:00pm)
First Day of School – August 14th
Labor Day – NO SCHOOL, September 4th
Indigenous People's Day – NO SCHOOL, October 9th
Election Day – NO SCHOOL, November 7th
Thanksgiving Break – NO SCHOOL, November 20th – 24th
Christmas Break – NO SCHOOL, December 21st – January 5th
First Day Back – January 8th
Dr. Martin Luther King Jr. Day – NO SCHOOL, January 15th
President's Day – NO SCHOOL, February 19th
Spring Break – NO SCHOOL, April 1st – 5th
Last Day of School – May 15th
Pre-K Graduation Night – May 16th
Programs
Two year olds:
Monday/Wednesday or Tuesday/Thursday
---
Three year olds:
Monday/Wednesday or Tuesday/Thursday or Monday/Tuesday/Wednesday
---
Pre-K:
Monday/Tuesday/Wednesday or Monday/Tuesday/Wednesday/Thursday
---
Pre-K 5's:                                                                     Monday/Tuesday/Wednesday/Thursday
---
Classroom Ratios
Two year old classrooms: 10:2
Three year old classrooms: 12:2
Pre-K classrooms: 14:2
Tuition
2- day program is $248 per month. Pay in full 5% discount = $2,120.40
3- day program is $353 per month. Pay in full 5% discount =$3,018.15
4-day program is $441 per month. Pay in full 5% discount = $3,770.55
---
Discount for Younger Siblings
2-day program is $223 per month. Pay in full 5% discount = $1,902.85
3-day program is $312 per month. Pay in full 5% discount = $2,666.65
4-day program is $398 per month. Pay in full 5% discount = $3,402.90
---
Registration Fee
Two and three year olds: $100.00
Four and five year olds: $125.00
Do you have any questions? Would you like to schedule a tour? Send us an email and we would be happy to help!