"But you will receive power when the Holy Spirit has come upon you; and you shall be My witnesses both in Jerusalem, and in all Judea and Samaria, and even to the remotest part of the earth." Acts 1:8
Missions Training and Resources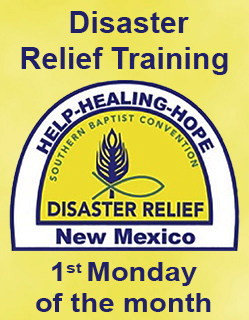 Disaster Relief Training 6-9pm Every 1st Monday of the month in room B216
Training will be here at Hoffmantown in Building E, room E104. This training will take place every 1st Monday of the month unless noted otherwise. The Disaster Relief training is open to the entire congregation.
Anyone over the age of 18 who goes through the training will have the opportunity to be certified with Southern Baptist Disaster Relief.
For more information, contact the Missions Ministry at missions@hoffmantown.orgor call 858-8662.
Hoffmantown's Ministry Partners
Interested in joining a trip?
If you sense the Lord leading you to commit to serve long-term with one of our ministry partners, click on the the appropriate link below to fill out an application.
Please save your application with your name and date at the end of the form title (ex: "Adult Non-member trip application Garcia, Jill-May2016") and email the completed form to missions@hoffmantown.org.
Contact the Mission Ministry
Email | missions@hoffmantown.org
Mission Office | Open Monday through Friday 9:00 am to 5:00 pm.
Phone | 505-858-8660
Visit | "Mission Cove" in the Fellowship Mall…the place to visit, ask questions and learn more about what God is doing around the world…and right here in our city and state.